Today was definitely what I call a "Starbucks Morning". Starbucks is about ten minutes in the opposite direction of where I drive for work, so not only is it a total waste of time and gas to go there, but let's not forget that a grande, half-sweet vanilla non-fat latte costs $4.65. Needless to say, a morning Starbucks run is not part of my daily routine.
However. There are some mornings when I am just feeling like a ton of bricks is on top of my head, and the only thing (sadly) that makes getting out of bed sound the least bit appealing is a spendthrift jaunt to my local coffee corporation from some foamy caffeine goodness. This morning was such a morning.
My dear friend Sarah, who only a few short weeks after giving birth to her son doesn't have the time, energy, or arms to make herself a cup of coffee, is probably rolling her eyes here, but I was working a the office last night (I didn't get home until after 10pm) trying to make up for lost time here from last week. In addition, we are thinking about having to put down our bunny rabbit (I will probably post on that depressing subject another day) and as a result broke out in tears three times yesterday, which left me emotionally exhausted (and my eyeballs wanting to fall out of my skull). On top of that, I didn't get a good night sleep as I was up dreaming about counseling Ellen Degeneras not to euthanize Portia DeRossi (talk about processing my feelings about ballot initiatives in a creative dream state). All of this to say, I felt like death microwaved on low for one minute this morning, and Starbucks was too good to resist.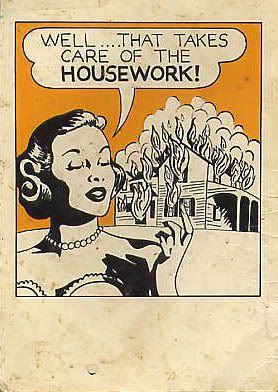 Tonight is going to be D-Day at my house, because as I hit the ground running when we got back from vacation, I have yet to finish unpacking and catching up with laundry and grocery shopping. I am ashamed to say we ate out both Tues and wed night. Tonight, if I have to be up until Midnight again, I am going to get my house in order and a real meal on the table. Eisenhower has nothing on me.
This week has reminded me why I need to cut back my hours at work, and why the myth that two people in a marriage can work full time and have a happy, organized home is just that-a myth. Or at least, for me it is. Perhaps for someone more high-functioning, they can get it done, but not me. I remember seeing in an old ladies' magazine from the 50s an article about how to reorganize and get your home in order after being away on a vacation. I don't remember anything about working a 12 hour shift at the office, eating Chinese food two nights in a row, and tripping over your suitcases in the dining room three days after you get home. December 1st, where have you been all my life?
On a lighter note, I have some fun pictures coming soon, some confessions (as if this entry doesn't count!), and some firsts, including my first centerpiece I've ever made. I'm excited. Blog soon, ladies!
Addendum: To my friends in Mexico, I was so sorry to hear the news about the
tragic plane crash
. Let's be praying for our North American neighbors today.